When?
Thursday Dec 3rd, 2009, 7:00PM and Sunday Dec 6th, 2009 at 3:PM
What?
Independent Films Produced locally playing on the big screen
Where?


The Screens at the Continent Columbus, Ohio Rt. 161 and I-71, on Busch Blvd!
How Much?
FREE ADMISSION!
Who?
Scott Spears, Mickey Fisher, John Jackson, Peter John Ross, Holly Magnani & other Award Winning Filmmakers from Ohio
Why?
Because Ohio filmmakers have started to create movies worth seeing!


A COLLECTION OF SHORT FILMS PRODUCED BY OHIO FILMMAKERS 2009
ADMISSION IS FREE
Date DEC 3rd 2009 7:00PM &
DEC 6th 2009 3:00PM
________________________________________________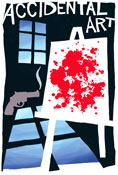 SHORT FILMS
A collection of short films from Ohio filmmakers, ranging from the dramas to science fiction to comedy. These are some of the best movies being made in our city.
Hiding in Plain Sight (7 min) Brandy Seymour
Motor Lodge (11 min) Vidas Barzdukas
Save Me (9 min) Josh Chiara
Refractory (4 min) Joanne Fromes
Reunion (6 min) Scott Spears
The Watchers (1 min) RAVE Pictures
Locum (10 min) - Leyna Haller
Drowning in Rainwater (6 min) - Ruth Lang
Autumn Mixtape (26 min) Mickey Fisher
Aidan 5 John Jackson/Ben Bays
Inside Out/Side One (5 min) - Matt Meindl
Eyes Closed in Peru (6 min) - Ruth Lang
Mann in Hock (6 min) - Jon Osbeck
Three Potatoes and a Spud (7 min) - Holly Magnani
Mary's Fare (8 min) - Bret Dahlgren/Linda Byrket/Don Drennan
Relationship Card (4 min) - Peter John Ross
Two Doors Down episode 1 (22 min) - Louie Cowan
Stephen Leary Investigates (5 min) - David Morrow
Accidental Art (6 min) - Peter John Ross
__________________________________________
Special thanks to our sponsors